Mathew Daniel Frank
An Amazing Boundry Crosser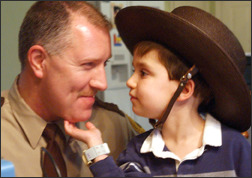 Mathew Daniel Frank and Srgt Tim Sutton,
Hanover County Sheriff's Officer
with Project Lifesaver
God has created me to do with Him some definite service.
He has committed some work to me which He has not committed to another.
I have my mission-
I may never know it in this life, but I shall be told it in the next.

I am a link in a chain,
a bond of connection between persons.
He has not created me for naught.
I shall do good God
 I shall do His work.
I shall be an angel of peace,
a preacher of truth in my own place while not intending it,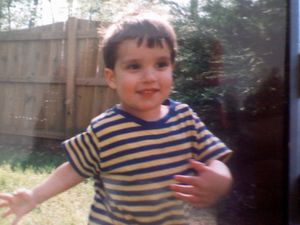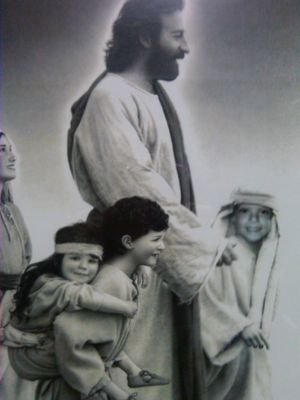 MATHEW DANIEL FRANK  ~ LIVED A LIFE OF LOVE 
September 20, 1996 - January 19, 2006
The Impact of your life lived continues to
INFLUENCE ~ ENLIGHTEN ~ CREATE CHANGE

We will always love you Mathew
You're with your Savior now! 
You are deeply loved and missed
Who was our son Mathew Daniel Frank ?
 Mathew was an amazing 9 years boy who was confident an fearless despite his multiple disabilities. He strived daily to use the abilities he was given by Christ to break through barriers in his community. He was a great imitator of Christ. Ephesians 5:1 (therefore is great imitators of God.)
Mathew knew his assignment. He was called upon to use his unique life to connect a community around the world and share his heart as he reached out to touch everyone he met. Mathew in is short life touch thousands of lives around the world. What Mathew shared with us was so important in the eyes of GOD.

He had figured out how to live his life well.
He was joy filled.
Simply what he shared was:
- That you love well, 
- That you love your neighbor, 
- Share the message of who Christ is ,by your Actions to others, 
- Be happy in the journey, having Joy. The Joy that surpasses understanding, The Joy of Christ
- And for us to Have "Jesus feel us."
Mathew's simple message was
"Jesus feel me."
"Feel my heart, my mind, my body.
Feel the energy it takes to get through my day.
Feel my prayers for my family, my friends.
Feel my need to be a great imitator of you on this journey. "

Many of us live our whole life and never now this simplicity of what Christ asked us to do. 
If we all strive like Mathew to have a legacy as a great imitator of Christ,
loving your neighbor, and keeping Christ as the center of our world.
The world would look very different.

A Scholarship was created after Mathew Daniel Frank earned his Wings January 20, 2016 "The Mathew Frank Memorial Scholarship" . The Scholarship  honors high school seniors who have been an example to their community by providing outreach to persons with disabilities. To date 29 students have received a scholarship in his memory.

http://www.youtube.com/watch?v=5D8ygbUcm3o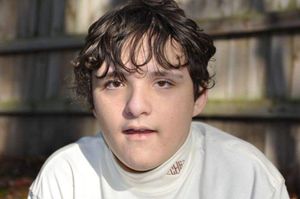 TYLER MICHAEL FRANK Scholarship
Who is Tyler Frank ?. Tyler Frank was a handsome 19 year old who struggled every day of his life. Tyler had extreme sensory needs from birth to the end of his life. Our world was so painful for him. The sounds the lights the movement and even the energy you brought into his space. He taught so many people how to just be in a moment and feel the peace of the moment. He was a big fella with a big spirit and loved folks in a different way than his twin Mathew. Tyler was a gentle giant. He learned to hug when he was 14. He would climb on your lab, grab your chin, and give you a nose rub. He loved to be with you .He loved to make you tickle him, he loved stickers.  We buy $30  dollars of stickers every week just so Tyler could put the stickers on something and take them off. He was so loved by so many. His care was tremendous the last years of his life he developed epilepsy . He would have up to 30 seizures a day. No longer was autism the primary need it was trying to make him safe and comfortable in his world of constant seizures. We were blessed that many of Tyler's staff were first  responders or nurses aides because they had the extra training and support to go on medical appointments and care for his ongoing medical needs. It took a team to care for Tyler... Team Tyler!
To date 5  High School Seniors have received a scholarship to help with their career as a first responder.      
February 23, 1967 ~ October 26, 2007
I remember my first conversation with Matt after I moved my family into our new home. I was explaining how our sons were unique (both with autism spectrum disorders along with other disabilities) and Matt immediately made us feel welcome. When he introduced me to "Clyde" his three legged dog I felt a funny sense of validation that our decision to buy this particular house was a good one.
Later, as our families became closer we would learn of Matt's ongoing battle with Brain cancer. It touched our hearts that despite having been diagnosed with cancer, and in tremendous discomfort and chronic pain for nearly 6 years, how he went out of his way in his community and church to be an example of courage, hope and comfort. There was never a day when we did not feel a part of our neighborhood. They just loved our whole family and we love them. Matt's wife Nancy still continues to minister to us each month by cutting our sons hair with patience and love. They are such an example of loving your neighbor as yourself. Their children Matthew and Grace included our sons Mathew and Tyler in every part of their world. These kids always remember to show up and give hugs, make cards and share their beautiful spirits. I have so many heart warming memories of my friend Matt Stevens and his wonderful family. I felt so close to Matt that I referred to him as "my brother from another mother", a title that has since befittingly passed on to his son.

Because of the role Matthew Stevens played in our families' life we felt it important to"carry his light forward".
Matthew Stevens is a huge part of
The Resource Connection, Inc.
In Honor of  Matthew Stevens'  The Resource Connection, Inc. created  
Mathew's Light 
an Adaptive Lending Library which donates wheelchairs, electric scooters, and equipment to uninsured in the community.
It provides home adaptions to help accomodate equipment and need
.  
I shall never forget my friend.
Memory of Keith Frank: Former Board of Director
December 29,1959- March 13, 2015